Best Airline Credit Card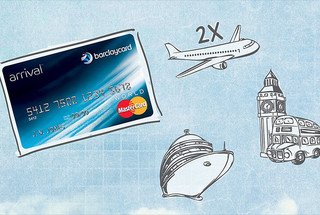 An airline credit card can help you earn free flights with your favorite carrier and, in some cases, faster elite status. These offers feature free airmiles, frequent flyer perks, bonus flight miles, and other great mileage and travel rewards.
Advertiser Disclosure
Best Airline Credit Card
A good deal for budget-conscious West Coast residents who frequently fly Alaska Air, the Alaska Airlines Visa Signature card pairs a generous sign up bonus and valuable rewards program with one of the lowest APRs available on a travel card.
Earn 25,000 bonus points when you spend $5,000 on purchases within the first 90 days.
Earn 2 points for every $1 you spend.
Redeem points for valuable rewards like cash back, travel, merchandise, gift cards and much more.
The Frontier Airlines World Mastercard is a solid credit card, offering 40,000 bonus miles awarded after spending just $500 in purchases within the first 90 days.
This card has been picked as one of our Best Airline Credit Cards.
The Hawaiian Airlines® Business MasterCard® offers 35,000 bonus miles when you make the first purchase.
Not a business owner? Check out the Hawaiian Airlines® World Elite MasterCard® instead.
The Hawaiian Airlines® World Elite MasterCard® is a great card if you travel Hawaiian Airlines frequently. You'll get rewards for travel spending and some decent airline perks.
If you're a frequent international traveler, take a look at the many miles you can earn with the Miles & More® World Elite MasterCard®.
Cardholders can earn 20,000 bonus miles after their first purchase and payment of the annual fee, and additional 30,000 bonus miles for spending $5,000 in the first 90 days.
This card provides 2X miles per dollar spent at all Miles & More integrated partners.
Get 5,000 bonus points (redeemable for $75 statement credit towards Priceline.com purchases or $50 in other purchases) after your first card purchase or balance transfer.
Get 10% points back every time you redeem points for statement credits toward eligible priceline.com or travel purchases of $25 or more made in the last 120 days.
Earn 5 points per $1 dollar spent on eligible priceline.com purchases, and 1 point per $1 spent on everything else.
Earn 1 point per dollar on balance transfers in the first 30 days, up to a maximum 5,000 points.
Points can be redeemed for statement credits toward eligible purchases, gift cards and merchandise.
The Capital One Spark Miles for Business card offers a big bonus and valuable travel rewards, but little else distinguishes it from the more-flexible cash back version of the card.
The Discover it Miles card can you help you cut costs thanks to its long 14-month introductory APR on new purchases and its low regular APR.
Alternatives
If you want more cash back, you can choose Nationwide Credit Card.
no longer accepting applications for new credit cards. If you already have a card, no worries—you'll still be able to use it as normal.
If you travel often and don't prefer a particular airline or stay with a particular hotel brand, you can choose Capital One Venture Rewards Credit Card.
The Capital One Venture card offers a reasonable APR and a generous travel rewards program, but comes with a hefty annual fee.
About Cards-Offer
About three-quarters of Americans have at least one credit card,In fact, the average person has 3.4 cards. But whether you have a wallet full of plastic or have never charged a purchase in your life, you should know how to apply for a credit card the right way when the time comes. getting approved for a credit card requires proactive planning that should start long before you apply. That's why Cards-Offer born, we aim to help you to find the right credit card, and then successfully apply a credit card.
How To Apply For A Credit Card
Credit card applications are straightforward, but you'll need to meet some minimum financial requirements to get approved for the best credit card offers. Learn how to apply for a credit online and what to expect after you click submit.
Knowing your credit score and what's on your credit report can help you determine what products to apply for. If you have fair credit, for example, you may not want to apply for a card that clearly states that only applicants with excellent credit will be approved.
If you don't have good credit, you may find it difficult to get approved for a card with a large sign-up bonus and a lucrative reward structure. Each credit card application ends up on your credit report, so the Nerds recommend using our credit cards comparison tool to find a card that fits your credit profile before applying.
If the card allows balance transfers, you may request to have balances transferred from other credit card accounts to the new card.
To apply for a credit card in the US, you'll need a valid Social Security number and a positive credit history. The best rewards credit cards may require at least three to five years of good credit history, and some more than seven.
Join Cards-Offer Newsletter Now!
Never miss a good chance to get a better Credit Card. Get top Credit Card Notifications from more than 100 Credit Card Categories!
We will not share your email in any cases.
Popular Credit Card